Blossoming Flower Basket Shawl and Knitting Wendys
My flower basket shawl is going to be a FO soon! Finally I will have something to show. I always get too many projects going and it takes me forever to get anything done. All I have left to do is the edging (which is 10 rows). I hope to have it done so I can show it off at
Purly Girls
on Monday.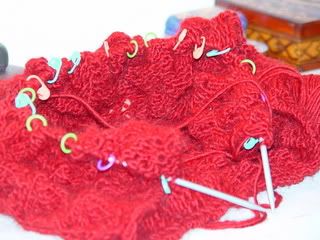 Tonight my knitting companion has been my cat Lucy. She would like to check out my yarn, but I have to keep it out of her reach. She is also very good at chewing bamboo needles.
Today I was reading
Wendy's Knits
and she had posted that there is a web ring called
knitting Wendys
. Well I had to join of course.