Drop Spindle
Look what I learned how to do on Sunday! I took a private lesson from my LYS and learned how to spin wool on a drop spindle. What fun! I'm not very good at it yet, so practice, practice, practice. I think spinning is something I will really enjoy doing and now I am looking for a used Ashford Traveler spinning wheel. If anyone knows of a good used one for sale please let me know. You will also notice in my picture the niddy noddy.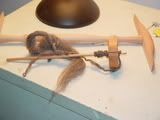 My new knitting books arrived today. My favorite is Elizabeth Zimmerman's
Knitting Without Tears.
I am knitting the Brown Sable Sweater using her percentage method. She has lots of useful tips in this book. I am knitting the first sleeve on the sweater tonight. I should have the sweater done soon and will store it away until fall.