Trip to the LYS
Below you will see several of my purchases over the weekend. They are: Vogue Knitting, a drop spindle, some roving, and Lamb's Pride worsted in sable.
Weaving Works
is such a great shop for those who want to spin!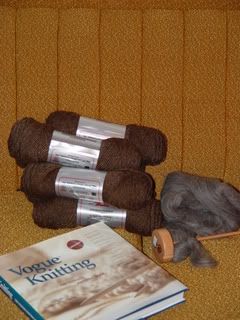 The Lamb's Pride is for a sweater for myself. I am using the percentage system to knit it up. I have a hard time finding patterns in my size, so I decided to design my own. If this sweater turns out, I will post the pattern for us large sized women. The Vogue Knitting book should also help me with my designs.
The drop spindle and roving are to learn how to spin. Before I invest in a spinning wheel, I want to make sure I enjoy it. Looking forward to using it.