Lots of Knitting Going On
This week I have been doing a lot of knitting on the Brown Sable Sweater. I finally have a picture of my progress, although not a very good one. I'm afraid I have some lighting issues in my living room at the moment, so I have limited areas in which to photograph.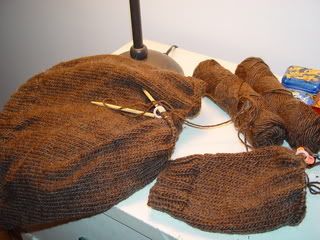 Tonight I went to my LYS and got some help from
Molly
on the Flower Basket Shawl. She is a whiz at lace and correcting mistakes and got me back to where I can begin working on it again! I don't know if I will make it to the end of this project, but I am determined to finish.
Tomorrow night I am going to my first auction. A professional insurance women's group is putting it on to raise money for the organization. It should be fun as there are lots of great items up for bid, including Mariner's tickets!