Secret Pal and Sable Sweater
My secret pal sent me a wonderful package in the mail! In it was some beautiful hand dyed yarn, a notebook, CD, pet toy and some wool to spin. I feel spoiled! And she did it all even though she is in Mississippi and had to endure the hurricane! She is ok though and they have their power back on. I need to get the last package to my secret pal, I have everything I want to send, I just can't get to the post office to send it because my car isn't working. I am hoping by the end of next week to get it fixed.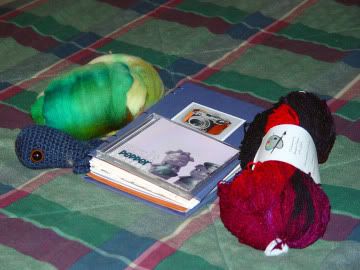 This week I have been working on my Sable Sweater. It is almost finished. It is about time I had a FO. I think it may be a little long, but we'll see.