Cable Design
Here is what I have been working on for the past couple of days, the back of the sweater I am designing for Scott. I have a few more inches before I start shaping for the sleeves. I am getting tired of the stockinet stitch, but I just keep reminding myself that the front of the sweater will be more interesting. If I were to do it over, I would knit the sweater in the round.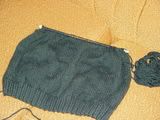 I found the cable that I am going to put down the front of the sweater. It is the nine-stitch braid from the 365 knitting stitches a year calendar.
I hope to finish the back over the weekend, but I am going out of town, so I'm not sure how much knitting will actually get done.
I am still looking for a job. I think that has to be one of the things I hate the most. I need to support my yarn habit some how!